Welcome to BGS Community Content Wikia
About
This wiki is founded by Gdbbsjxk in 15th February 2020. This wiki is for BGS (Bubble Gum Simulator) fan content that anyone can add to! You can read the Rules and create a fan content page, or contribute by posting on discussions and commenting on articles made by editors.
Did you know…
That one of the wiki's pets named Admin Pet was featured once on KenBeNooby's video due to KenBeNooby mistaking the pet as a real pet?
That this wiki succeeded the Bubblegum Simulator 2 Wiki a month after the wiki was released?
That this wiki has a pet event each year on February 15 (The date the wiki was created) based off of the 2020 PE the first event on the wiki?
That this wiki was named with Community Content instead of Fan Ideas or Fanon was because Community Content stands for content made by the community which fits this wiki as a wiki grown by the community?
That 4 staff of the Official Bubble Gum Simulator Wiki joined this wiki? They are no less than Beckaaa, GpaSarge6, Notysean, and DefildPlaysThinks.
That the King Kitty and tons more fan content was added to the game?
That when LoadingCodeWiki created Petipedia, it was high-rated and used as the wiki mascot ever since?
On the search box, you can search for fan content, please read the Rules before starting to edit!
List of abbreviations:
N

This edit created a new page (also see list of new pages)

m

This is a minor edit

b

This edit was performed by a bot

(±123)

The page size changed by this number of bytes
22 June 2021
View poll here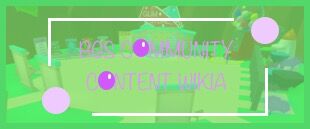 Community content is available under
CC-BY-SA
unless otherwise noted.